Welcome to our site!
Bed & breakfast La Coccinella is the right place where you can spend a pleasant holiday.
It is an oasis of relax in a family and welcoming environment, very close to the splendid sea of Alghero and in contact with the reality of the interior of Sardinia, where nature and culture, gastronomy and traditions mix in a masterly way to give the best image: authenticity.
La Coccinella consists two bedrooms with independent entrance and bathroom.
From our bed and breakfast you can easily reach the most beautiful places and beaches of the Coral Riviera and live the intense night life of Alghero summer.
Visit our site and discover the opportunities for your holiday.
What to see in Olmedo...
In Olmedo, among exhibitions, festivals and archaeological monuments.
Don't miss a visit in our village!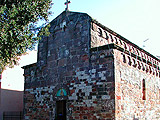 Chiesetta di Talia
Mostra e Presepe di Pane
Festa 1° Maggio
Olmedo Produce
Sardegna in Festa
Complesso Monte Baranta