Where we are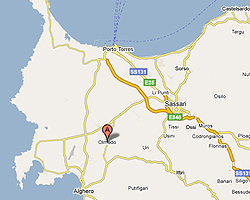 The Bed and Breakfast La Coccinella is in Olmedo, a small village in the North-west Sardinia, very close to Alghero, important tourist town, with an international airport, Porto Torres, very ancient Roman colony, known with the name of Turris Libyssonis and today industrial centre and the biggest passengers port in North Sardinia; Sassari, chief town of the province, university centre with medieval origins.
The name of Olmedo, very probably comes from the name "olmo", which means "elm – tree". A tree similar to oak – tree; a tree that had a large spreading in the area where the built – up area is now.
Olmedo is a town of more than 3500 inhabitants, set in a plain but with evocative panoramic places. The most beautiful is "Monte Baranta", from where you can see the romantic Alghero gulf.
Olmedo is rich in historical testimonies from pre – nuragic age (the megalithic area of Monte Baranta is of great importance) since 1300 with the lovely church of "Nostra Signora di Talia" ("Our Lady Of Talia").
In town, the preservation of popular traditions is very alive and in particular the one of traditional bread. The "Bread exhibition" has an ethnological interest and every year attracts lots of people from everywhere.
So, in Olmedo you can find several things: culture, history, popular traditions and, thanking the closeness to Alghero coasts, you can easily enjoy the pleasant relax of the beautiful beaches of the Coral Riviera!
What to see in Olmedo...
In Olmedo, among exhibitions, festivals and archaeological monuments.
Don't miss a visit in our village!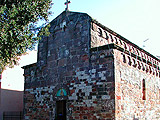 Chiesetta di Talia
Mostra e Presepe di Pane
Festa 1° Maggio
Olmedo Produce
Sardegna in Festa
Complesso Monte Baranta